Snowdrop Solutions and OniGroup today announced a partnership to jointly offer location-enriched digital services to banks and financial services firms throughout the Asia Pacific region.
The two companies will offer Snowdrop's leading location-enrichment technology, MRS, alongside OniGroup services and Google Maps expertise in a combined approach to digital banks throughout the region in order to deliver a wide range of location-enriched banking services.
Today, many consumers are confused when reviewing their card transactions. Often, they do not recognize the name of the merchant, or they do not remember where the purchase took place. By leveraging Snowdrop's Merchant Reconciliation System with OniGroup's location expertise, these banks can quickly gear up and offer to their users clear merchant names and display on a map with a logo where the transaction actually took place. MRS relies on information in a payment processing message and therefore does not require the bank to track the location of the consumer's phone.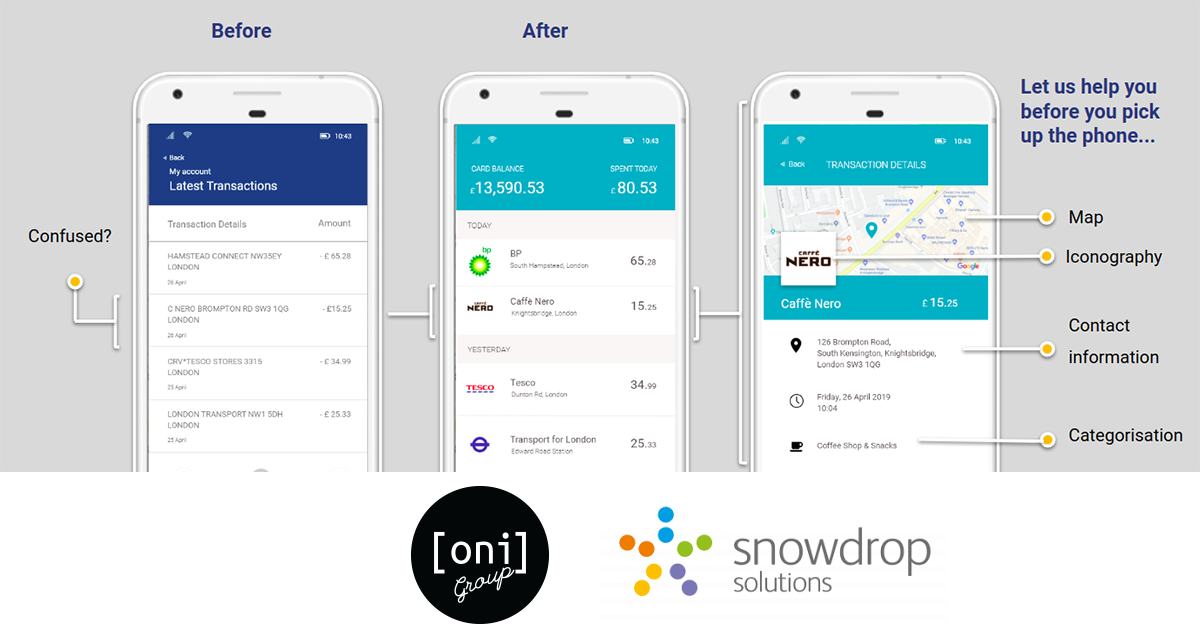 "We turn confusion into clarity," said Ken Hart, CEO and founder of London-based Snowdrop. "And that enables banks to quickly build trust with their users." He added that the combination of Snowdrop's unique product match rates and accuracy with OniGroup's location expertise will enable banks to trial and rollout these consumer-centric services in just a few weeks.

"Our partnership will greatly improve the engagement for consumers with transactions becoming more transparent, reducing time spent resolving ambiguous spends," said Darragh Murphy, Managing Director of OniGroup globally. "It will also help reduce call centre and other operational costs for banks."

The partnership seeks to replicate the success of Snowdrop's MRS customers in the UK and Europe into Asia Pacific - a region poised for tremendous growth over the next few years according to analysts.

Both companies will continue to operate independently and leverage other existing distribution channels.
About Snowdrop Solutions
Snowdrop Solutions is a UK-based leading provider of location solutions and a Google Premier Partner. The company works with leading digital and traditional banks across the UK, Europe and Asia Pacific. Snowdrop's product, the  Merchant Reconciliation System API (MRS), currently powers the delightful experience behind hundreds of millions of transactions in digital banking today.